William K. "Chip" Bradford   &  Amber L. Ladner
Between the two of us we have over 30 years of experience representing clients from all walks of life.  In 2010 we combined our solo practices to take a team approach in representing our clients.  Individually and as a firm we have represented countless individuals who faced divorce, criminal charges, civil claims, and injury on and off the job.  We have also represented large and small businesses and non-profits who have faced complex, serious legal issues.
We bring to the table a vast array of professional and personal experiences that help us help you through whatever legal issue you face.  We are dedicated to our profession, and firmly believe that as attorneys we are the guardians of the personal liberty bestowed on all of us by the Constitution.  When we became lawyers, we took an oath in which we still believe and which we strive to follow each day.
"I do solemnly swear that I will demean myself as an attorney, according to the best of my learning and ability, and with all good fidelity, as well to the court as to the client; that I will use no falsehood or delay any person's cause for lucre or malice, and that I will support the Constitution of the State of Alabama and of the United States, so long as I continue a citizen thereof, so help me God."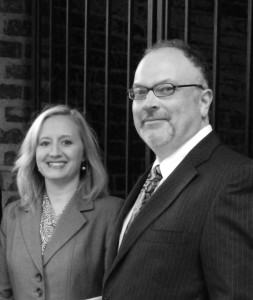 We are happy to have you sit with us and talk about your situation to see what we can do to help.  Above all, we strive to give personal service, realistic and up front legal counsel.
Take a look at our personal pages to find out more about us.